Tomintoul | 2010 - 2021 | The Old Friends
PX Sherry Hogshead | 54,0%vol. | aged 10 years
Ein Tomintoul aus der The Old Friends Serie von Michel Reick. Der Whisky kommt aus einem PX Sherry Hogshead – keine Ahnung, wie lange er darin lag. Die Farbe ist nicht übertrieben dunkel, sondern schön golden.
Als Erstes kommen cremige Vanille-Noten mit Crème brûlée, dahinter ist dann aber auch eine saure Note mit saurem Pflaumensaft, der leicht am kippen ist. Könnte in Richtung Buttersäure gehen und ist nicht wirklich schön.
Der Whisky hat eine süße Grundnote, die allerdings von scharfem Alkohol überdeckt wird. Mit etwas Wasser wird der Whisky weicher und cremiger. Trotzdem bleibt der Alkohol als scharfer Hintergrund. Es entwickelt sich aber eher eine Vanille-Aromatik als eine Sherry-Aromatik mit reifen, trockenen Früchten. Auch hier ist es der Pflaumenmost, der zum süßen Grundton hinzukommt. Der buttersaure, leicht käsige Ton ist aber auch noch vorhanden.
Hinten heraus kommt noch ein leichter Muff, der nicht schlimm ist aber darauf hindeutet, dass dass Hogshead vielleicht nicht mehr das frischeste war.
Auch das wird kein Lieblingswhisky, was vielleicht am Grunddestillat liegt, dem aber auch die Reifung keinen überzeugenden Charakter hinzufügen konnte. Mich stört die leichte Buttersäure. Kein schlechter Whisky, aber auch nicht wirklich überzeugend. Tomintoul ist ein Working Horse von Angus Dundee, hat eine relativ kurze Fermentation. Bisher konnten mich die Whiskys der Destillerie nicht überzeugen.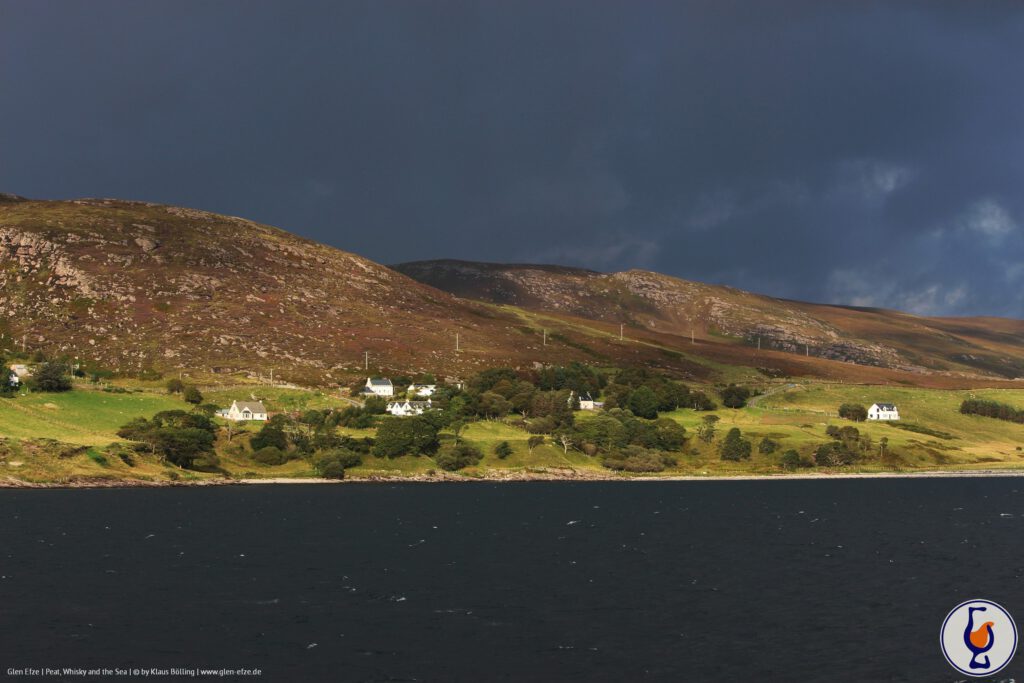 founded: 1965 | Region: Speyside
Owner: Angus Dundee Distillers
Capacity: 3.300.000 litres
Quelle: Ingvar Ronde, Malt Whisky Yearbook 2022
Tomintoul ist eine junge Distillery, die in den 60er Jahren des vorigen Jahrhunderts gegründet wurde. Das war lange vor dem derzeitigen Whiskyboom mit all den neuen Distilleries. Die Gründung von Tomintoul fiel in eine andere Boom-Zeit, der ein radikaler Absturz folgte. Auch Tomintoul wurde mehrfach verkauft, u. a. an den umstrittenen deutschstämmigen Geschäftsmann Tiny Rowland.
Ruhiger wurde es erst nach 2000, als der unabhängige Abfüller Angus Dundee Distillers die Brennerei übernahm. Seither gibt es eine Core Range mit verschiedenen Altersstufen. Unter dem Namen Old Ballantruan erscheint eine rauchige Abfüllung. Angus Dundee verkauft viel Whisky als Bulk Ware für Eigenmarken diverser Produzenten. Auch die Eigenmarken von whisky.de werden von Angus Dundee hergestellt und dürften somit auch Tomintoul Whiskys enthalten.
The Old Friends ist eine der Marken des unabhängigen Abfüllers Michel Reick, der inzwischen mit seinem Marken (Whsiky Druid, Best Dram, The Old Friends) zum deutschen Importeur Kirsch Import gewechselt ist und deren Portfolio um eine eigenständige, unabhängige Komponente verstärkt.
Whisky Druid Michel Reick gehört zu den illustren Gestalten der deutschen Whisky-Szene, der auch in den Blogs and Vlogs aktiv ist und zusammen mit Marco Bonn die genialen Whisky-Elfen bildet. Ein sehr präsenter Typ mit sehr präsenten Whiskys.