The Druids Orkney Spirit V
Highland Park 15 | 1st fill PX Hogshead | 57,6%vol. | 2005 - 2020
Ein von Michel Reick unter seiner Marke Whisky Druid abgefüllter Whisky von den Orkney Inseln. Da Scapa keine Fässer abgibt und leider weit unter den eigenen Möglichkeiten abfüllt und veröffentlicht, kann es sich hier nur um einen 15jährigen Highland Park handeln. Und er kommt in einer schönen dunkelgoldenen Farbe mit einer Fassstärke von 57,6%vol.
Süße PX-Noten abgemildert durch Nussaromen, die vom typischen Highland Park Rauch stammen können, der zunächst nicht auffällt. Dazu kommt süßer Früchtepunsch mit Pflaumen und Kirschen. Mit etwas Wasser lassen sich die Aromen besser trennen, mit süßem Sherry gewürzter Heidetorf-Rauch verrät eindeutig die Brennerei.
Im Geschmack schiebt kräftiger Alkohol die Aromen, der Rauch ist sanft und blumig ohne maritime Jod-Aspekte. Auch hier kommen die Früchte, süße Pflaume, dunkle kirschen, Schokolade, Nüsse, etwas Nougat mit Oragenschalen. Ach, wäre dieser Whisky in Oloroso-Fässern gefinish worden …
Rauch und Sherry bleiben am Gaumen und tragen dunkle Früchte und Schokolade noch eine Zeit lang mit sich.
Ein wunderbarer, leckerer Whisky für späte Herbstabende und die Sehnsucht nach dem Sonnenuntergang in der Bucht von Scapa Flow unterhalb der Brennerei auf Mainland Orkney. The Druids Orkney Whisky übertrifft manche Originalabfüllung deutlich. Aber er ist halt auch süß. Aber manchmal versinkt die Sonne in der Bucht von Scapa Flow auf warm und windstill.
Ach, wäre dieser Whisky in Oloroso-Fässern gefinish worden …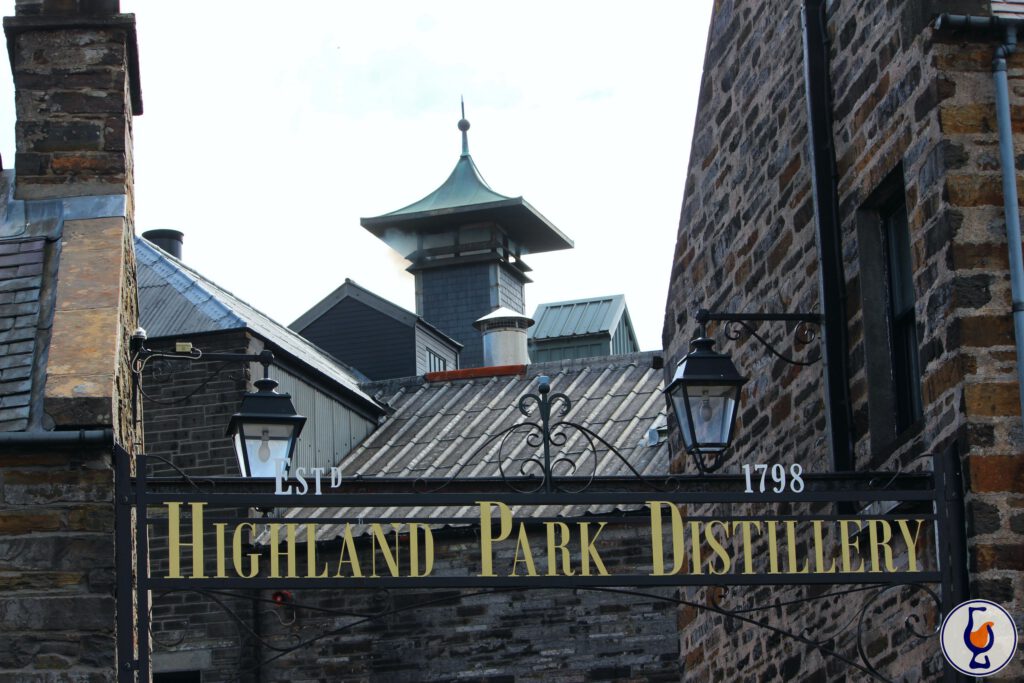 founded: 1798 |Region: Highlands
Owner: The Edrington Group
Capacity: 2.500.000 litres
Quelle: Ingvar Ronde, Malt Whisky Yearbook 2021
Highland Park ist die ikonische Distillery auf den Orkney-Inseln. Als Teil der Edrinton Group unterliegt Highland Park leider auch deren Marketing, d. h. es wird viel Gedöns gemacht, das wenig mit dem Whisky zu tun hat (hier geht es um Wikinger, die tatsächlich auf Orkney zu Gange waren – aber eben lange vor der Distillery).
Leider sind die Highland Park Whiskys – sobald sie älter sind – in den Originalabfüllungen massiv überteuert. Aber es gibt gute unabhängige Abfüllungen.

Typisch für Highland Park ist eine leichter, heidebetonter Torfrauch.

Whisky Druid ist eine der Marken des unabhängigen Abfüllers Michel Reick, der inzwischen mit seinem Marken zum deutschen Importeur Kirsch Import gewechselt ist und deren Portfolio um eine eigenständige, unabhänige Komponente verstärkt.
Michel Reick gehört zu den illustren Gestalten der deutschen Whisky-Szene, der auch in den Blogs and Vlogs aktiv ist und zusammen mit Marco Bonn die genialen Whisky-Elfen bildet. Ein sehr präsenter Typ mit sehr präsenten Whiskys.