Glenfarclas | 2004 - 2021 | Selected and bottled for the Netherlands
Autumn Edition | Sherry Cask Matured | 53,5%vol.
Mit Glenfarclas ist das so eine Sache – die können sehr lecker sein oder eben schwierig und muffig aus alten Fässern. Dieser ist eine Abfüllung für die Niederlande aus dem Herbst 2021, hat eine schöne, natürliche Refill-Sherry Farbe und wurde auf sicherlich ausreichende 53,5%vol. reduziert. Das könnte also einer der leckeren Glenfarclas werden …
Aus dem Glas steigen genau die erhofften Aromen. Warmer Sherry-Duft mit Gewürzen und Nüssen, Orangensaft, Marmelade mit Orangenschalen, deutlichem Holz, das im Aroma aber nicht muffig oder bitter ist. Mit etwas Wasser wird es ein Nusskuchen mit gekochten Pflaumen, Vanillepudding und einem Hauch Nelke und Zimtrinde.
Im Geschmack ist er kräftig auf der holzigen Seite. Aber auch hier ist es schönes Holz, so wie ich es mir als Whiskytrinker wünsche: würzig, nussig, ohne Moder und alte Bitterkeit. Und der Alkohol ist ebenfalls kräftig, da kann vielleicht auch noch ein Tröpfchen Wasser zu. Auch mit Wasser wird er nicht fruchtig sondern behält die würzige Kraft, es kommt Nussschokolade mit feinherbem Kakao.
Im Nachklang bleibt die nussige Oloroso-Holz-Note, es hängt aber auch ein Stückchen Pflaumenschale am Gaumen.
Einer meiner ersten Whiskys vor einigen Jahrzehnten (was für ein schlimmer Satz …) war ein Glenfarclas. Danach war Glenfiddich für mich keine Option mehr. Und in der verwaschenen Erinnerung waren es genau die hier schön vorhandenen Aromen aus nussiger Eiche und dunklem, süßen Fruchtsaft mit Gewürzen und leichter Bitterkeit von Nelken, die mich überzeugt haben. Er ist aber auch nicht zu gefällig, ist keine moderne Sherrybombe, sondern hat Charakter. Und im Glas hat er mit Wasser Scotch Mist entwickelt – ich bin begeistert. Die Niederlande haben Glück, dieser Glenfarclas ist nicht schwierig – er ist toll!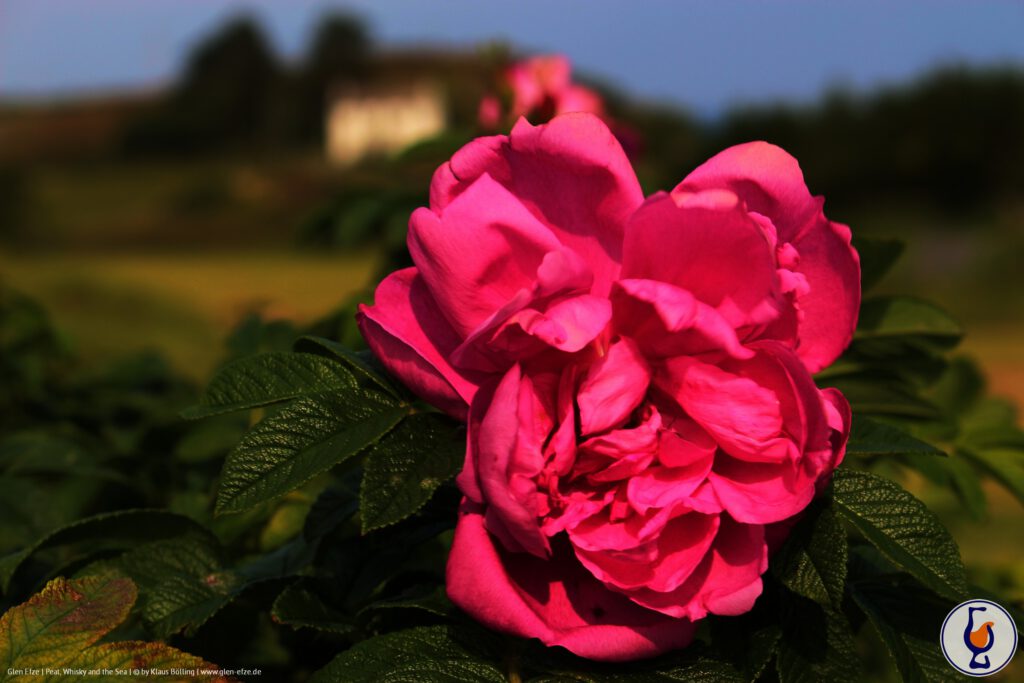 founded: 1836 | Region: Speyside
Owner: J. & G. Grant
Capacity: 3.500.000 litres
Quelle: Ingvar Ronde, Malt Whisky Yearbook 2021
Eine der großen und ikonischen Distillerys in Schottland, nicht in Konzernhand, sondern seit Generationen im Besitz der Familie Grant. Während viele Distillerys auf NAS setzen und die älteren Jahrgänge zu Phantasiepreisen anbieten, gibt es von Glenfarclas Whiskys mit Alter und alte Whiskys zu guten Preisen. Allerdings hat die Distillery auch keine Skrupel, viertbefüllte Fässer als teures Einzelfass zu verkaufen.
Glenfarclas steht für Sherry-Whiskys und befüllt vorzugsweise Oloroso Sherry Casks. Sie bezeichnen ihre Whiskys als Highland Single Malt – die Distillery liegt aberi n der Speyside. Aber klar, Speyside ist ja auch Highlands.