Laphroaig | 10 Jahre | Cask Strength Batch 13
ex-Bourbon Barrels | 57,9%vol. | Bottling 2021
Laphroaig – das ist Islay pur und kompromisslos. Der 10er ist der Inbegriff von rauchigen Whiskys, zumindest wenn man in die Whiskywelt einsteigt. Kehrt man später zu dem Whisky zurück, ist er noch immer gut – mit 40%vol. aber auch eine Zumutung für Nerds. Whiskys mit 40% sind Schorle.
Dieser 10er kommt in Cask Strength und das bereits im 13. Batch. Natürlich gehypt, natürlich kaum verfügbar. Und natürlich ordentlich bepreist. Außerden: lt. Label gefärbt – Würgreiz! Prince Charles ist Laphroaig Fan und er sollte über die Schlüssel des Towers verfügen – also hinein in die Kerker mit den für die Färbung Verantwortlichen!
Das ist Islay, da kokelt das Torffeuer, schmaucht feucht vor sich hin. Aber er stinkt nicht, hat einfach kräftigen Rauch mit Kräutern, keine aufgesetzt süßen Aromen mildern den Genuss. Trotzdem sind Früchte im Hintergrund, Karamell und Vanille kommen hinter dem Rauch hervor.
Auch im Geschmack ist der Rauch dominierend, wird vom Alkohol gut getragen, auch nach einigen Tropfen Wasser. Keine Spur von dem wässrigen Gefühl des üblichen 10ers. Rauchiges Karamell ist vorhanden, wird aber niemals zu süß, sondern wandelt sich in herb-trockene Noten. Das ist puristischer Laphroaig. Die Holznoten sind nicht ausgelaugt und bitter, sie geben dem Whisky Tiefe.
Es bleiben Aspekte des Rauchs lange am Gaumen, trocken und mit angenehmen Holzaromen, etwas verbranntem Karamell. Der Gaumen ist mit warmen Holz- und Rauchnoten belegt, die lange nachklingen. Das ist South Islay mit tiefen Wolken und Sonnenstrahlrmn, die kurz durch die Wolkenlücken in die Bucht strahlen.
Der Whisky ist nicht vordergründig aufregend – aber er ist dicht, rund und bietet von allem, was wir an Laphroaig lieben, weit mehr als die gewöhnlichen Abfüllungen. Also auf jeden Fall doch aufregend. Ein wunderbarer Raucher von Islay, kräftig, lecker, maritim. Welcher Idiot kippt in so eine Perle E 150a? Ein Konzernlackel von Beam Suntory. Was für ein Elend …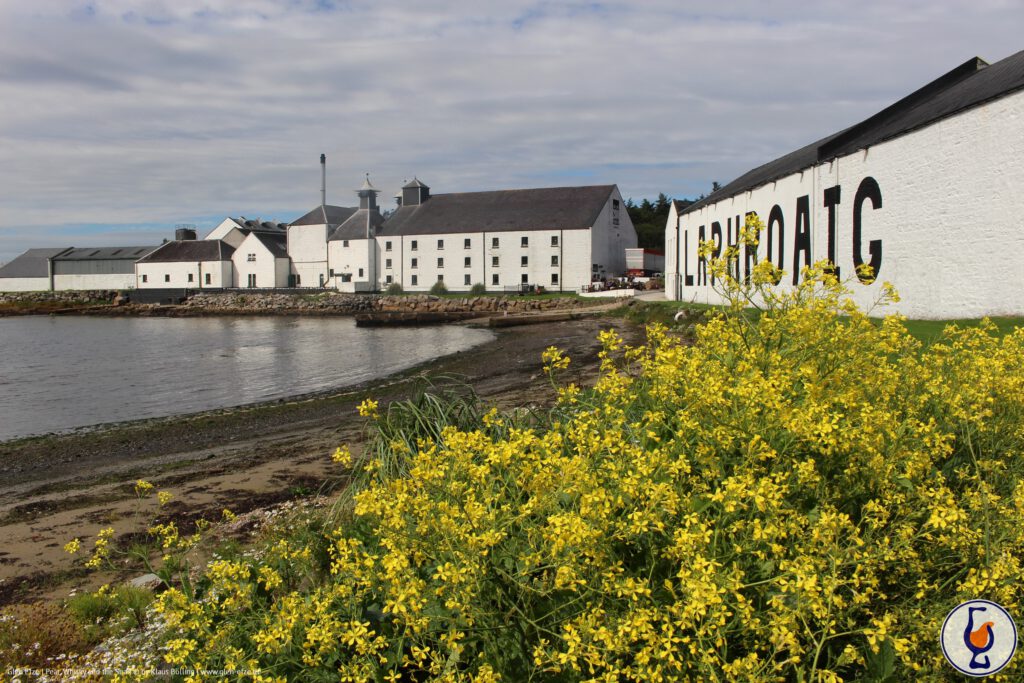 founded: 1815 | Region: Islay
Owner: Beam Suntory
Capacity: 3.300.000 litres
Quelle: Ingvar Ronde, Malt Whisky Yearbook 2021
Laphroaig ist eine der klassischen Islay Distillerys. Auch wenn aktuell massig neue Distilerys auf Islay gegründet werden – Laphroaig bleibt einzigartig. Der Rauch dieser Distillery ist krasser, hat stärkere maritime Einflüsse und eine medizinische Komponente.
Laphroaig gehört zu den wenigen Destillen, die noch einen Teil ihres Malzes selbst herstellen und mit eigenem Torf trocknen. So sieht man hier auchregelmäßig den Kiln qualmen.
Prince Charles ist einer der Fans dieser Destille, was irgendwie gut passt. Zudem ist er der legitime Nachfahre der Lords of the Isles, die ihren Sitz auf Islay hatten. Und somit ist Laphroaig vielleicht 'der Islay Malt' – auch wenn andere mehr Publicity machen.