Ruadh Mhor | 2009 - 2020 | The Single Malts of Scotland
Hogshead | 63,9%vol. | cask strength | Bottled for Kirsch Import
Ein von Elixir für Kirsch Whisky abgefüllter rauchiger Whisky der Glenturret Distillery. Das dritte Kirsch Exclusive in Folge – so langsam bekomme ich etwas Angst, da die Begeisterung sich oft in Grenzen hält. Farblich recht hell stammt der Whisky aus einem Hogshead.
Der Rauch ist deutlich und im verkokelten Torf war auf jeden Fall auch noch der Gummistiefel der Torfstecherin oder des Torfstechers. Egal welches Geschlecht – sie haben ein Vanille Parfüm benutzt und einen vergammelten Cheddar gefrühstückt. Klingt unangenehm, ist es eigentlich auch – aber irgendwie dann auch wieder nicht …
Da war auf jeden Fall ein Gummistiefel im Feuer und ein gammliger Socken im Stiefel. Weil es dazu aber auch einen angegorenen Fruchtcocktail gibt, ist das insgesamt gar nicht so schlecht. Da könnte auch eine Schwefligkeit sein, die in diesem Konglomerat seltsamer Aromen gut eingebunden ist. Mmh, das ist jetzt nicht hochkomplex – aber für Fans seltsamer Rauchnoten auch wieder ganz interessant. Gefällt mir (… bin unsicher, ob ich das jetzt wirklich geschrieben habe …)
Rauch und Süße, Gummi und Gammelkäse, wenig Holz. Das war jetzt nicht das Mega-Fass  – es ist aber ein eigenständiger Raucher.
Das Fass war nicht mehr wirklich aktiv und der Whisky ist irgendwie fragwürdig. Da aber auch sein Name seltsam ist, passt das gar nicht schlecht. Ganz ehrlich: Ich wollte ihn schlechtschreiben! Aber irgendwie fasziniert er mich dann doch. Er ist 15 € zu teuer, das schon – aber kaufen kann man ihn trotzdem und sich dann wundern, warum einem dieser Rauch gar nicht so schlecht schmeckt. Oder vielleicht auch gut schmeckt. Oder was mit einem los ist, dass man das freiwillig trinkt … Ein interessanter Whisky, der Spaß macht!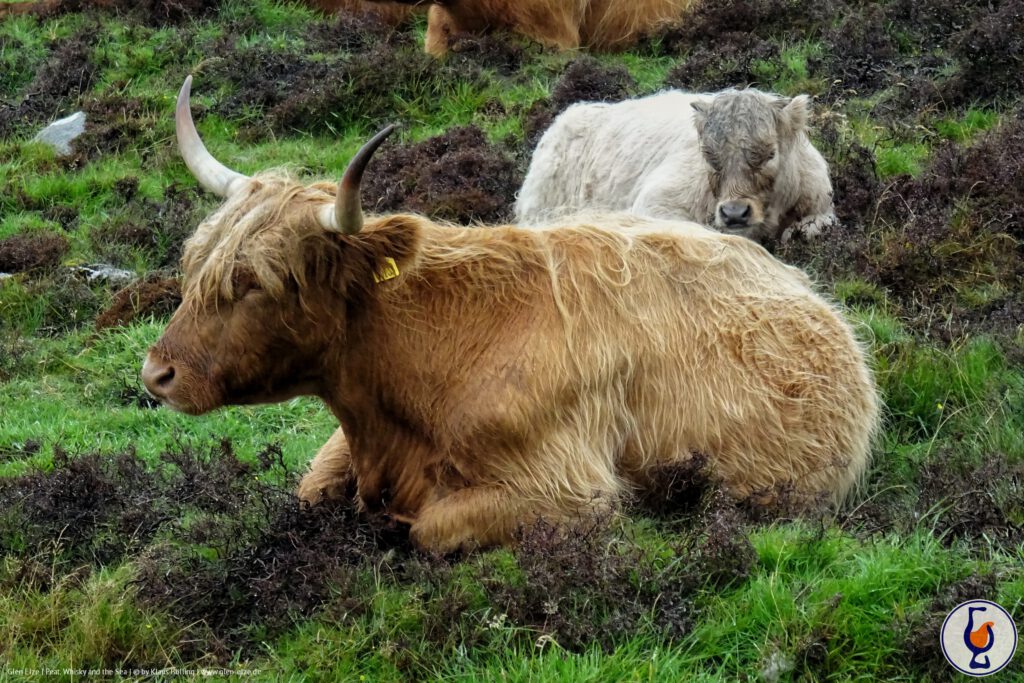 founded: 1776 | Region: Highlands
Owner: Lalique Group/Hansjörg Wyss
Capacity: 340.000 litres
Quelle: Ingvar Ronde, Malt Whisky Yearbook 2021
Glenturret gehörte lange Jahre zur Edrington Group und war deren Home of the Grouse, die Referenz-Destillerie für Schottlands führenden Blend The Famous Grouse. Dabei ist Glenturret eine der kleinsten Brennereien Schottlands und es ist wohl die älteste produzierende Distillery. Glenturret produziert nicht getorften und torfrauchigen Whisky, der unabhängig abgefüllt den Namen Ruadh Maor trägt.
2018 wurde die Brennerei an den schweizer Luxuskonzern Lalique von Hansjörg Wyss verkauft. Seitdem wird die Marke neu aufgestellt.
Berühmt ist die 1987 verstorbene Distillery Cat Towser the Mouser, die 24 Jahre im Stillhouse gelebt hat und in dieser Zeit hochgerechnet 28.899 Mäuse gefangen haben soll. Das brachte ihr nicht nur einen Eintrag im Guinness Buch der Rekorde sondern auch ein Bronzedenkmal auf dem Brennereigelände.
Elixir Distillers ist die Marke der Brüder Suhkinder und Rajbir Singh, die 2021 ihren Shop The Whisky Exchange an Pernod Ricard verkauft haben. Als unabhängiger Abfüller bleiben sie selbst aktiv mit verschiedenen Untermarken wie Single Malts of Scotland oder verschiednen Islayabfüllungen z. B. unter dem Label Port Askaig oder Elements of Islay. Auf Islay bauen sie auch an der Südküste eine eigene Distillery.