Arran | French Oak Bordeaux | 15 Years Old
Cask Strength | Non-chill Filtered | French Oak Bordeaux-Médoc
Arran aus der Oberklasse: Eine limited Edition aus der Rare Batch Serie, vollständig gereift in Weinfässern aus französischer Eiche, in denen zuvor Wein aus der Bordeaux-Medoc Region lag. Das Bordeaux-Fass hat dem Whisky einen rötlichen Teint gegeben, eine Vollreifung über 15 Jahre sollte den Whisky geprägt haben.
An der Nase sind Weinnoten, auch etwas gärender Traubenmost, der Alkohol kühlt und es kommt eine süß-herbe Frucht, Trauben, Pflaumen und Kirschen, die sich mit leicht bitteren Eichentönen mischen.
Im Geschmack mischen sich die Weinaromen mit dunklen Früchten, da ist lang eingedicktes, leicht angebranntes Pflaumenmus mit Zimt und Vanille sowie noch nicht entzündetem würzigen Zigarrentabak. Das ist der Whisky am Ende der Teatime im tiefen Sessel mit Blick über die Felder auf den Atlantic vor der Isle of Arran.
Im Nachklang kommt eine trockene Holzigkeit, die angenehm mit Weinaromen abgerundet ist. Der Whisky hat schöne Noten vom Wein und Holz mit einer angenehmen Bitterkeit.
Ein besonderer Whisky, der einen schönen Wein- und Holzcharakter hat und trotzdem eine frische Fruchtigkeit bewahrt. Mit Preisen ab 160 € Anfang 2022 hat er allerdings einen ordentlichen Preis … Aber das Sample war sehr lecker.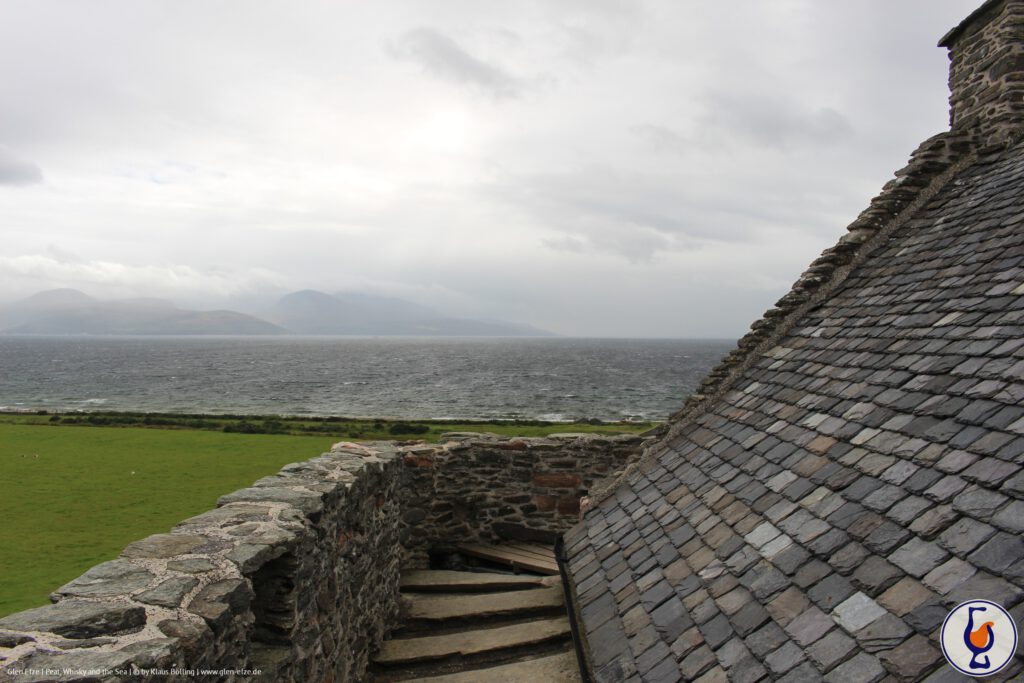 Lochranza Distillery (Arran)
founded: 1993 | Region: Islands (Highland)
Owner: Isle of Arran Distillers
Capacity: 1.200.000 litres
Quelle: Ingvar Ronde, Malt Whisky Yearbook 2021
Nachdem Isle of Arran Distillers am anderen Ende der Insel mit der Lagg Distillery ihre zweite Brennerei eröffnet haben, wurde die ursprüngliche Arran Distillery in Lochranza Disatillery umgenannt. Hier werden weiter die ungetorften Arran Whiskys gebrannt, während die Lagg Distillery für die rauchige Variante zuständig sein soll.
James McTaggert, der als Distillery Manager den Auf- und Ausbau der Marke Arran maßgeblich geprägt hat, ist nun als Production and Operations Director für beide Distilleries zuständig.
Mit dem Aufbau der neuen Distillery wurde auch das Design der Arran Whiskys komplett überarbeitet und modernisiert.