Lagavulin | 2005 - 2020 | The Distillers Edition
43,0%vol. | Double Matured in Pedro Ximénez Sherry Casks | gefärbt, chillfiltered
Dieser Lagavulin ist wohl nicht mehr 16 Jahre alt, aber immerhin bleiben von 2005 – 2020 15 Jahre alt. Gefinished im PX-Fass, hier Double Maturation genannt. Angaben zur Dauer der PX-Reifung gibt es aber nicht. Auch Lagavulin gehört zu den Highlights der Classic Malts.
Schöner Rauch, der kräftig ist, Sherry kommt dazu, nicht sehr ausgeprägt aber durchaus mit Frucht und auch Holz.
Im Geschmack kräftig, die längere Reifezeit hat Spuren hinterlassen. Der PX sorgt für Süße, der Alkohol ist trotz der nur 43%vol. kräftig aber nicht störend. Süße Schokonoten und Früchte, die aber nicht vollständig ausgewogen mit dem Rauch und dem Holz harmonieren. Am Ende vielleicht etwas zu süß … Trotzdem sind auch herb-bittere Noten vorhanden.
Der Rauch bleibt, das ist der Vorteil der rauchigen Whiskys, die damit einen anhaltenden Nachklang bekommt. Auch die PX Süße bleibt.
Sicher einer der besten aus der Distillers Edition. Trotzdem gibt es bessere Lagavulins. Aber für die Fans rauchiger Whiskys, die noch nicht mit Einzelfässern verwöhnt wurden, sicherlich ein guter Dram. Hätte mehr als die 43%vol. verdient.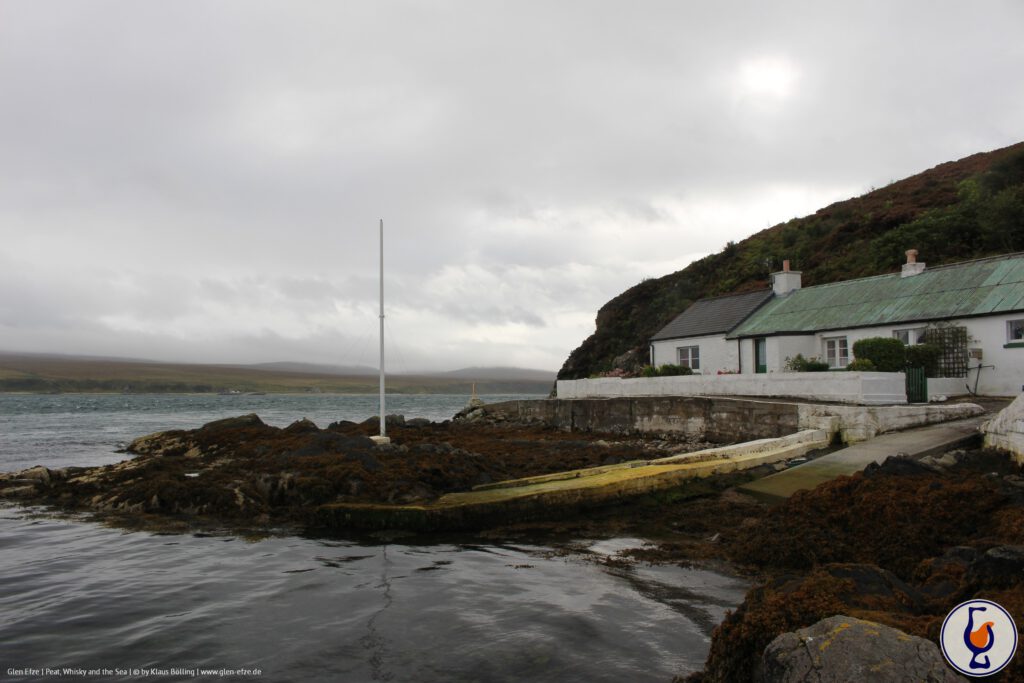 Die Distillers Edition war immer der heilige Gral der Whiskys. Jedenfalls damals in der Anfangszeit, als die Classic Malts ein Highlight waren und die Distillers Edition die jeweilige Steigerung. Orientiert hatte man sich am großartigen Standardwerk 'Malt Whisky' von the late Michael Jackson und dem jährlichen Katalog von The Whisky Store (jetzt whisky.de). Und dann kam das Internet und wir wurden Whisky-Nerds …
Was bringt die Distillers Edition heute? Vieles was Nerds hassen: Farbe, Kühlfilterung, schwachen Alkohol und oberflächliche Finishes. Diageo Standardware statt heiligem Gral.

founded: 1816
Owner: Diageo
Capacity: 2.600.000 litres
Quelle: Ingvar Ronde, Malt Whisky Yearbook 2021
Lagavulin ist eine der großartigen Distillerys an Islays Südküste. Der Stil ist nicht so wild und maritim wie der der Nachbardestillen Laphroaig und Ardbeg. Es dominieren eher warm-aschige Rauchnoten.
Insbesondere der 16jährige Standardwhisky aus der Serie der Classic Malt gehört sicherlich zu den ersten Islay-Erfahrungen jedes Whsikygenießers und ist auch heute noch ein toller Whisky.
Schade, dass Lagavulin zu den typischen Konzernwhiskys von Diageo gehört …
Diageo ist der weltgrößte Spirituosenhersteller und der führende Whiskyhersteller in Schottland. Dem Konzern gehören 28 Distillerys, er produziert 121.370.000 Liter Alkohol in Schottland und steht damit für 30% der schottischen Whiskyindustrie.
Der Konzern ist 1997 durch den Zusammenschluss von Grand Metropolitan und deren schottischer Whiskytochter International Distillers and Vintners (IDV) mit Guiness und deren Whiskytochter United Distillers.
Führende Marke ist Johnnie Walker, weltweit auf Platz 5 der meistverkauften Whisky (alle davor sind aus Indien, aber die weltweit führende indische Marke McDowell's No.1 gehört ebenfalls Diageo). Weitere Blends sind z. B. Bell's und J&B. Im Malt Sektor sind die Classic Malts legendär, die für viele der Einstieg in die Whiskywelt waren.
Quelle: Ingvar Ronde, Malt Whisky Yearbook 2021 | https://scotchwhisky.com/whiskypedia/2624/diageo/