Caol Ila | 9 Jahre | Signatory Vintage | 2011 - 2021
Dechar/Rechar Hogsheads | 46,0%vol. | Un-chillfiltered Collection
Ein 9jähriger Caol Ila, gereift in einem Rechar Hogshead – das sollte solide Qualität bringen, auch wenn der Whisky noch jung ist.
Ein unspekatakulärer Caol Ila aus der Un-chillfiltered Collection von Signatory. Diesmal nicht aus dunklen Sirupfässern, sondern ein schön golden leuchtender Whisky aus dem Hogshead. Der Caol Ila ist 9 Jahre alt und im Gegensatz zu vielen der aktuell erhältlichen Caol Ilas im gleichen Alter mit unter 50 € Ausgabepreis fair und angemessen bepreist.
Im Aroma ist der schöne Caol Ila Rauch sofort angenehm vorhanden, sticht nicht stinkig hervor und hat warme Aschenoten. Dahinter kommen reife Zitrusfrüchte. Auch Holznoten sind vorhanden. Aber alles ist etwas verhalten und nicht komplex – aber trotzdem interessant und auf keinen Fall zu jung oder unreif.
Es ist ein Whisky, der eher zum Trinken als zum Schnüffeln ist.
Im Geschmack belegt der Rauch die Zunge, der Whisky ist angenehm und rund, der Rauch ist präsent, trocken und aschig, kein Qualm, kein Kuhstall. Im Gegensatz zur zitruslastigen Originalabfüllung ist der Whisky, rund und wärmer. Ein schöner Dram.
Der 11jährige Caol Ila von Pat Hock aus 2020 stammt dezidiert aus einem Sherry Hogshead, das aber sicherlich nicht mehr sehr aktiv war. Er ist allerdings, auch dem höheren Alkoholgehalt geschuldet, kräftiger in den Aromen und hat auch einen stärkeren Rauch. Auch mit etwas Wasser ist er der kräftigere Caol Ila.
Am Ende kommt noch etwas Holz, dass aber auch nicht zu bitter oder alt ist. Die Hogsheads hatten eine gute Qualität. Sehr lang und anhaltend ist der Nachklang nicht, lädt aber zum nächsten Schluck ein.
Ein sehr angenehmer Caol Ila, der meilenweit besser als das etwas ruppige und unausgewogene Original ist. Zum Preis von unter 50 € ein sauberer und leckerer Whisky. Ob er die 88 Punkte von Serge Valentin wert ist, sei dahingestellt.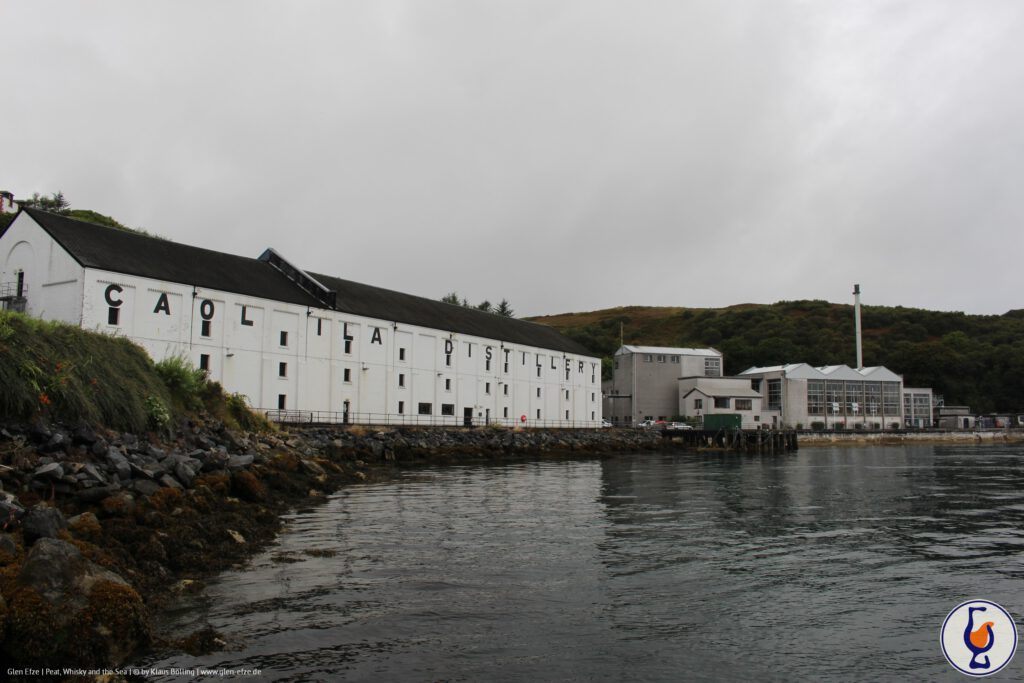 founded: 1846 | Region: Islay
Owner: Diageo
Capacity: 6.500.000 litres
Quelle: Ingvar Ronde, Malt Whisky Yearbook 2021
Die größte Brennerei der Isle of Islay produziert für die Blend aber auch eine eigene Range und wird zunehmend gehypt.
Inzwischen finden sich viele gute Abfüllungen bei den unabhängigen Abfüllern.
Das Brennhaus wurde Anfang der 1970er Jahre neu gebaut und hat eine große Fensterfront vor den Brennblasen, durch die man über den Sound of Islay zur nahen Nachbarinsel Jura blickt.