Oban | 2006 - 2020 | The Distillers Edition
43,0%vol. | Montilla Fino Cask Finish | gefärbt, chillfiltered
Oban Distillery liegt mitten in der gleichnamigen Stadt an der schottischen Westküste. Ein tolles Setting, Oban ist das Tor zu den Hebriden, gegenüber liegt die Isle of Mull und dann kommen die Outer Hebrides. Kann der Whisky das spiegeln? Wird es maritim und wild?
Auch hier sind die 14 Jahre zunächst im Aroma nicht zu spüren. Hellfruchtigkeit, etwas gelbe Pflaume, Birne, aber noch nicht ganz reif. So wirklich martim wird es nicht.
Im Geschmack kommen etwas kräftigere Töne, eine gewisse holzige Wachsigkeit. Früchte sind vorhanden, die gelben Pflaumen werden im Geschmack reifer und durch das Holz und etwas Nuss gut ergänzt. Am Ende fehlt der letzte Kick. Trotzdem im Geschmack ein durchaus leckerer Whisky.
Der Nachklang ist nicht sehr lang – es bleibt aber ein Eindruck des Whiskys am Gaumen.
Die Oban Distillers Edition ist durchaus interessant. Leider sind die 43%vol. etwas dünn und nehmen dem Whisky Kraft und Aromen. Fino Sherry ist für mich nicht wirklich erkennbar, die zu erwartenden trockenen Noten sind nicht wirklich erkennbar. Aber es ist eine leckere Distillers Edition.
Wermutstropfen ist der Preis: Ca. 70 € im Herbst 2021? Never …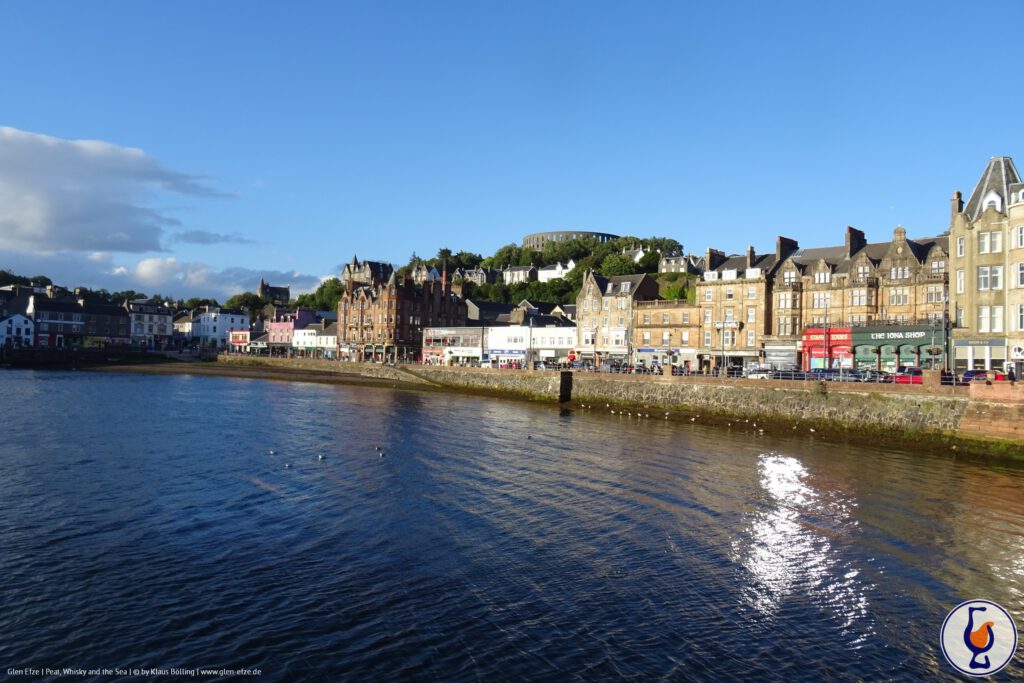 founded: 1794 | Region: Highlands
Owner: Diageo
Capacity: 870.000 litres
Quelle: Ingvar Ronde, Malt Whisky Yearbook 2021
Die Distillery liegt mitten in der Stadt Oban. Das limitiert die Entwicklungsmöglichkeiten, Oban hat das zweitgeringste Produktionsvolumen im Diageo Konzern. Bei den Classic Malts vertritt Oban die westlichen Highlands.
Oban ist eine wunderbare Hafenstadt, in der die Fähren zu den Hebriden ablegen.
Die Distillers Edition war immer der heilige Gral der Whiskys. Jedenfalls damals in der Anfangszeit, als die Classic Malts ein Highlight waren und die Distillers Edition die jeweilige Steigerung. Orientiert hatte man sich am großartigen Standardwerk 'Malt Whisky' von the late Michael Jackson und dem jährlichen Katalog von The Whisky Store (jetzt whisky.de). Und dann kam das Internet und wir wurden Whisky-Nerds …
Was bringt die Distillers Edition heute? Vieles was Nerds hassen: Farbe, Kühlfilterung, schwachen Alkohol und oberflächliche Finishes. Diageo Standardware statt heiligem Gral.

Diageo ist der weltgrößte Spirituosenhersteller und der führende Whiskyhersteller in Schottland. Dem Konzern gehören 28 Distillerys, er produziert 121.370.000 Liter Alkohol in Schottland und steht damit für 30% der schottischen Whiskyindustrie.
Der Konzern ist 1997 durch den Zusammenschluss von Grand Metropolitan und deren schottischer Whiskytochter International Distillers and Vintners (IDV) mit Guiness und deren Whiskytochter United Distillers.
Führende Marke ist Johnnie Walker, weltweit auf Platz 5 der meistverkauften Whisky (alle davor sind aus Indien, aber die weltweit führende indische Marke McDowell's No.1 gehört ebenfalls Diageo). Weitere Blends sind z. B. Bell's und J&B. Im Malt Sektor sind die Classic Malts legendär, die für viele der Einstieg in die Whiskywelt waren.
Quelle: Ingvar Ronde, Malt Whisky Yearbook 2021 | https://scotchwhisky.com/whiskypedia/2624/diageo/