Talisker​ | 10 years old | Distillery Bottling
Der ikonische Whisky von der Isle of Skye, 10 Jahre gereift, getorft, Teil der Classic Malts und damit einer der Whiskys, die viele Whiskygenießer seit Jahren kennen. Aber eben auch gefärbt und kühlgefiltert. Made by the Sea?
Talisker ist kräftig rauchig und damit durchaus auf einer Höhe mit manchen Islay Rauchern. Der Rauch ist nicht primär medizinisch/phenolig oder rußig, es ist der schöne Rauch von einem warmen Lagerfeuer. Damit ist er vergleichbar und verwechselbar mit Caol Ila. Hinter dem Rauch kommen Früchte, etwas dunkle Kirschen und ein paar Orangenzesten.
Im Mund ist er ölig und der Rauch ist auch hier kräftig. Die Früchte sind ziemlich verhalten, kommen nur leicht süß und werden dann wieder von einer rauchigen Holznote verdrängt. Das alles ist durchaus lecker, aber ohne große Höhepunkt. Der schöne Rauch bestimmt den Geschmack. Chilli Catch? Konnte ich noch nie viel mit anfangen … Eine gewisse Schärfe ist da, die aber auch vom Alkohol kommen kann, allerdings nicht stört.
Im Nachklang wird der Whisky trocken im Mund, die Pflaume bleibt aber weiterhin spürbar. Nicht zu komplex, sondern gut zu trinken.
Talisker 10 ist ein guter Whisky, den man immer wieder trinken kann, der aber auch nicht besonders aufregend ist. Klar, am Ende ist es halt auch ein Diageo Massenprodukt mit all den Merkmalen, die man an diesem Konzern nicht mag. Und auch wenn er an der Küste von Skye destilliert wurde – gereift ist er wohl im Zentrallager von Diageo nahe Sterling. Denn auf Skye haben sie definitiv nicht die ausreichende Menge an Lagerhäusern. Trotzdem ein guter, leckerer Whisky, den man alle paar Jahre mal wieder im Regal haben muss.
WhiskyJason MEGA ISLANDS Scotch Single Malt Blind Tasting
Der Talisker 10 gehörte zum Tasting Flight der Islands Whiskys am 23. Oktober 2021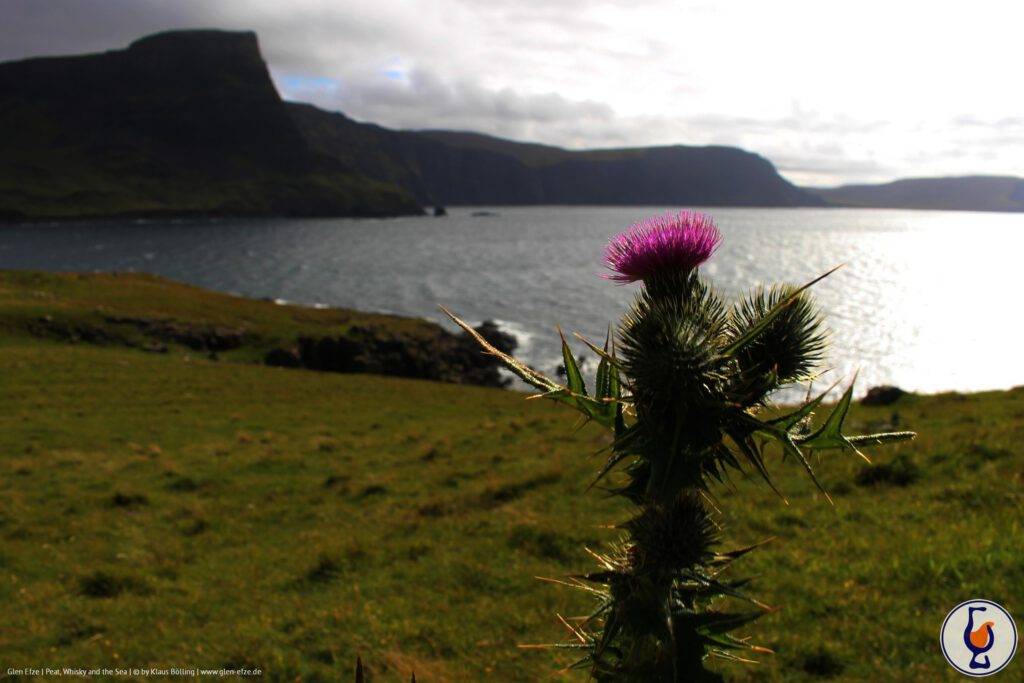 founded: 1830 | Region: Islands
Owner: Diageo
Capacity: 3.300.000 litres
Quelle: Ingvar Ronde, Malt Whisky Yearbook 2021
Wunderschön gelegen auf der Isle of Skye ist diese Distillery sehr pittoresk, auch wenn sie nicht direkt am Meer, sondern geschützt am Meeresarm Loch Harport liegt.
Leider haben mich die Führungen nie überzeugt, diageotypisch herrschte striktes Fotoverbot in der Brennerei. Trotzdem ist sie einen Besuch wert, allein wegen der Lage.
Die Whiskys sind aufgrund ihrer kräftigen Rauchigkeit sehr lecker, aber eben auch Massenprodukte eines Großkonzerns. Und natürlich sind sie auch nicht 'Made by the Sea', denn nur wenig wird auf Skye gelagert, der Whisky wird in Tankwagen in das große Diageo-Lager bei Sterling geliefert …